The Breakaway Program
Breakaway's program is for young people ages 10-16 from the Darebin, Banyule and Whittlesea areas. Most of the campers are referred by local schools or welfare agencies, and ideally start the program at the age of 10, staying in the program until the age of 15 or 16. They are put into groups with an equal number of male and female young people of the same age group, with 10-12 young people in total and a set group of 4-6 volunteer leaders who look after a specific group. Each month the group will go away on an overnight camp, usually at Breakaway's property Glendale.  The groups will participate in a variety of outdoor activities (sleeping in tents, bush walking, canoeing, bike riding, swimming, etc), being challenged and learning new skills, all the while being supported in a positive and safe environment.
At the moment Breakaway runs 3 groups at a time, with different age groups in each and a different group of volunteer leaders allocated to each group.  As the eldest group finishes up, a younger group is started, and the cycle continues.
Breakfast Creek
For many years Melbourne Grammar School has partnered with us by generously donating the use of their campsite in the Alpine National Park.  Originally built to accommodate loggers working in the area, the Breakfast Creek campsite consists of basic huts equipped with bunk beds, a communal hall with adjoining kitchen, and a basic shower/toilet block.  Each year in the July school holidays, campers experience what it is like to get "back to basics".  Running water must be pumped from the creek; campers help collect firewood to heat water for their hot shower; electricity is provided by a generator only to allow for lighting between the hours of sunset and bed time.  Our nearest neighbour is the Licola General Store, a 20 minute drive away.
For kids who have always lived in the suburbs, the isolation and the basic facilities can prove challenging, but the Breakfast Creek camp is ever a highlight amongst campers.  The carefully planned program focuses on team building and personal growth, with a jam-packed week of wide games, hikes in the rugged surrounding bush, night walks (without street lights!), and other adventure activities.  Campers are encouraged to reflect on their experiences through
journaling, and many opportunities are provided for campers to take steps in growing not only their bush survival skills but also practical living and relational skills.
Summer Camp
Our annual Summer Camp happens during January before the school year starts. We take  all campers currently involved in the Breakaway program along on a 5 day camp to Glendale. The camp involves a variety of outdoor summer activities involving lots of water, group games, and team building activities as well as opportunities for self reflection and teaching of life skills. The young people also participate in duties around the camp, helping teaching respect and responsibility.
A highlight of the camp is an 80 metre water slide which we hope to make bigger and better each year. We have found Summer Camp to be a great way to bring all the campers together after a break over the school holidays to get outside, build some new friendships, have some fun just being kids, get prepared for the school year ahead, and kick off the year of Breakaway with a big splash!
Central Trip
When a group of campers has reached the age of 15-16 they finish up with the Breakaway program. The final camp that they attend is a 17 day road trip to Central Australia, which takes place over the term 3 school holidays.  The course of the trip involves travelling through Adelaide, Coober Pedy, Uluru, Kings Canyon, Alice Springs, and Elery Creek.
As the group has now been with Breakaway for a number of years, they are keen for the challenges of such a long camp and spend the trip cooking out of a kitchen trailer, sleeping in tents or under the stars, going for long walks/hikes, and spending long periods of time with one another in close quarters.
This final camp provides opportunity for the group to reflect on the journey that they've had with Breakaway Youth, as well as to think about where they're headed in the future.  The length of the trip allows for some incredible experiences and memories to be had, as well as a chance for the group to have closure as they finish up and say goodbye to their time as a camper with Breakaway Youth.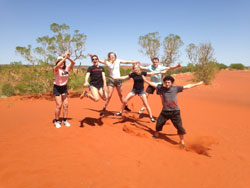 The Glendale Property
Breakaway owns a 45 acre property called Glendale in Taggerty, (just past Buxton, in country Victoria) where we run most of our overnight camps. During the summer we camp out in tents on various parts of the property, using "Merv's Cabin" for basic amenities. During winter months we use "Miller's Lodge" located on the property which has several rooms with bunk beds, lounge, dining and full kitchen.
Much of the Glendale property is covered with natural bush, which is ideal for small bush walks, off-track bike riding, exploring, and for bush camping. There are also areas of open paddock space which are used for wide games, night games, and bonfires. A small creek runs through the property which campers enjoy walking and playing in during the warmer (and sometimes not so
warm!) months.
The location of Glendale is ideal as it is close to Lake Mountain – for visits to the snow during the winter months; Buxton – which has a small lake and water holes ideal for canoeing and swimming during summer months; and the Cathedral Ranges – which offers a wide variety of places to hike and walk for either short or long treks.
Family Formal Dinner
Breakaway runs an annual Family Formal Dinner for our campers and their families in November of each year. It is an evening where families can get dressed up and go out in a family friendly setting, and enjoy a night out together. There is great food, games, a photo booth, and live music. It's also a chance for families to meet each other and leaders that their children go on camps with. Awards and trophies are handed out to campers, providing a public opportunity of encouragment for each of them. This includes the "Merv Award" which comes with a trophy and camping equipment for the recipient who is a young person who demonstrates and represents all that Breakaway values. It's a fantastic evening out and grows bigger and better every year.
Leader Training
A leaders training weekend is held near the start of each year which is mandatory for all current Breakaway leaders.  This weekend is run with the intention of spending a weekend giving all our current volunteer leaders up to date information about the goals and expectations of Breakaway Youth, allowing them to spend time bonding as a team, and training them in a variety of key
areas to make them more effective leaders in their camping groups.
Other training is held throughout the year to provide opportunities for our leaders to be more effective on camps. These include Bronze Medallion training, Mental Health Training, First Aid Training, and other workshops and conferences as they arise.
Breakaway has adopted the Child Safe program as part of its policies and procedures, and inturn we train all our leaders with the Child Safe policies and safety management systems when working with young people.  This helps our leadership team and Breakaway Youth as an organization to be more effective at keeping young people safe during activities, as well as providing the best care possible during our programs.  More information about Child Safe and its
program can be found at: www.childsafe.org.au
Annual Fundraising Auction
Join us while we raise much-needed funds for Breakaway Youth. This is Breakaway's major fundraising event for the year, and always promises to be a BIG night for all who attend. The evening will be jam packed full of fun, games, music and entertainment, and the main auction proudly carried out by Stuart Buckingham from Buckingham and Co Real Estate.
With around 30 main auction items and over 150 silent auction items in our catalogue, the night boasts items such as sporting goods, restaurant vouchers, baby goods, plants, computer equipment, clothing, white goods, accommodation, shopping and travel vouchers, and the legendary meat tray.
We will still offer tables of ten and this year we will also be offering standing tickets. Standing tickets will be available at a lower price to the seated tickets. We will of course continue with our standard inclusions of delicious finger food; plus beer, wine, bubbly, soft drinks and juice included in the ticket price. Bring your friends, family, colleagues or even a stranger off the street!